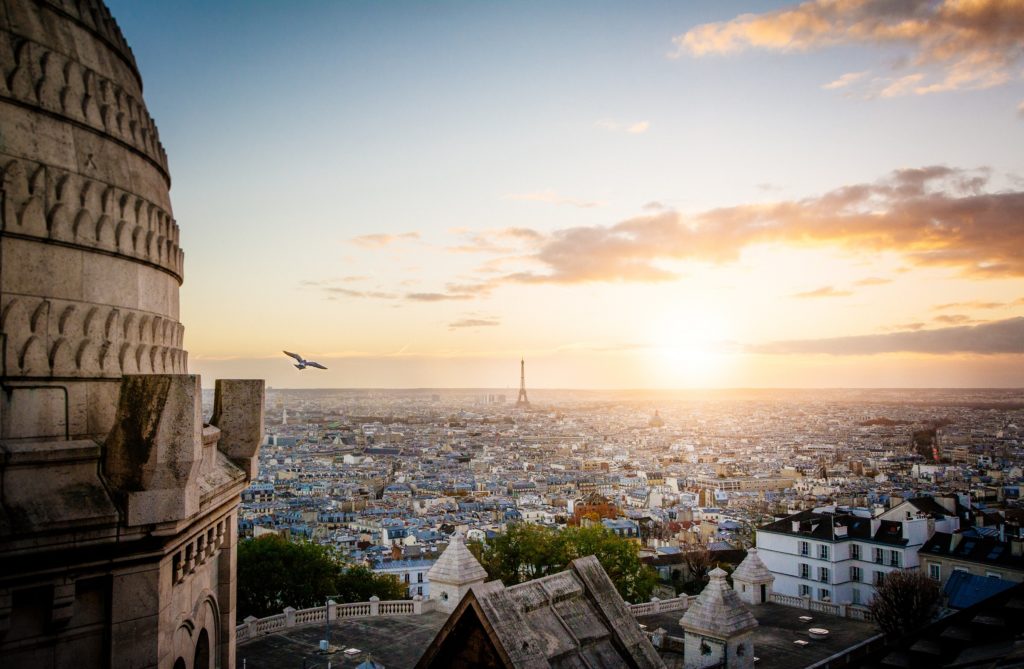 3 years ago i was visiting Paris with my future wife, portuguese. I'm French and we were going to my hometown, Strasbourg, so i had to stop by Paris for a day, so she get a picture with Eiffel Tower.
It was a beautiful day of November, strangely calm by the way for a capital. But sunny, and quiet.
When we visited some shops, she was surprised that some big guys asked her to watch her bag, as portuguese, she never lived such a thing.
I even explained her this day, because of Charlie, France is like that now, and very alert of everything,
After a perfect day i could see a nice sunset coming, so i propose her to jump in a cab and go Montmartre watch it. (cliché i know), and i catched that.
My camera was in burst mode, so the first clicks scared the bird i was lucky he made the picture awesome. I even remember watching the pic, saying to myself, damn, people can say its symbol of peace if they want, thank you bird. I was really happy with my picture.
After that, we jumped in the very last train for Strasbourg. It was 21h maybe. After 20 min in the train we've learned about what happened in Paris this day (Terrorist Attack, 13 november 2015) It was terrible. Terrible to even imagine, just trying to process the info. We've passed though most of those streets during the day.
While some people were crying this horrible day for France, I've just learn how you write history, every day, click by click.
This sunset picture of that day in Paris is historic.
It become the symbol of peace, and how light can fight darkness.
Keep fighting folks, we are documenting History.
Anytime, every time.
Vive la France
Benjamin.
---
---